As the Future of Europe debates kicked off officially on 19th of April, one of the first conferences was about families and defending the Judeo-Christian roots of Europe.
"The future of Christian Democratic values in the European Union" event was organised by Political Network for Values under the umbrella of the Conference on the Future of Europe launched the same day by the EU, which is meant to open a public discussion among politicians and civil society.
The speakers included Katalin Novák, Hungarian minister for Families, Vice-president of Fidesz and president of Political Network for Values, and Lorenzo Fontana, former Italian minister for Families and minister of European Affairs, deputy secretary of the Lega party. The online event was attended by more than 100 political and civil society leaders from more than 15 countries in Europe and America.
Participants agreed that a free and open political debate regarding conservative and Christian Democratic values is missing in Europe. As traditionally conservative political groups are sliding to leftist political groups, it is necessary to remind Europe that the European Union and the European cooperation is based on the Judeo-Christian roots.
Italian MP Lorenzo Fontana emphasized that progressives are now questioning values that would have been unquestionable 30-40 year ago. He added that today two very different models of society are competing: one based on family values and one where families are considered to be an obstacle to a "new totalitarian globalism".
It is our responsibility to stand up and protect traditions and family-based communities against this totalitarian thinking. "The battle does not belong to one country, nor can it be won individually," – said Lorenzo Fontana, thus Christian democrats also need to join forces internationally.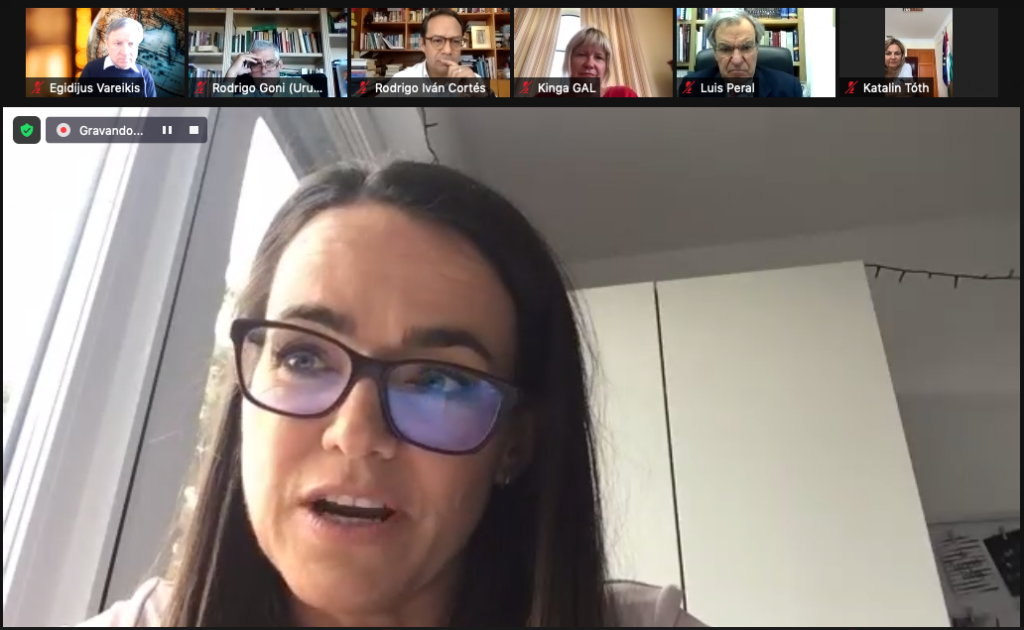 Katalin Novák underlined that even if we all have very different national, historical and cultural heritage in Europe, we all share the same Christian values. This is the basis on which the European Union was founded at the very beginning, and these are the roots that guaranteed peace in Europe in the second half of the 20th century.
She mentioned family, the respect of work, responsibility and the respect of identity as shared values. "We don't have to believe in God to share these values," – she said. Conservatism does not reject liberal values: we do believe that men and women are equal, and they should have equal rights and opportunities – but we also believe that they are not identical.
However, conservatism nowadays seems weakened and in mainstream media it is portrayed as extremist. This is not true, she said. Unfortunately, "liberalism is not the ideology of acceptance and respect as it wishes to be. The truth is that it doesn't tolerate anything that does not fit in to the mainstream liberal ideology."
While the international environment is very often hostile, we need to keep on representing the Christian values that we are committed to by heart, like caring and respecting others – always resisting the pressure of leftist media that exercises de facto censorship on everyone who differs from mainstream liberal views.
"Liberals have become the enemies of freedom: they have become intolerant and unaccepting of any other views than their own. There is an ideological dictatorship in front of us and we can see it in the whole global scene ", added MEP Balázs Hidvéghi.
Angela Gandra, National Secretary of the Family of Brazil, emphasized that Christian values integrate true human values. From her perspective it is very important to build a dialouge, to ask, to listen, to expose and to show the history. Also she higlighted the importance to speak in the language of love because our main source is the love.
You can watch the webinar in English, here.