Por Rod Dreher | Shocking news from Mexico:
Civil society leader and former Mexican Congressman, Rodrigo Iván Cortés, has been convicted of "gender based political violence" over posts on Twitter and Facebook referring to transgender-identifying Mexican Congressional representative, Salma Luévano, as a "man who self-ascribes as a woman". On Wednesday (21/06/2023), Cortés addressed the Organization of American States (OAS), asking the international body to intervene with regard to the "systematic violations of fundamental rights" occurring in Mexico.
Cortés, head of political advocacy group Frente Nacional por la Familia ("National Front for the Family" or FNF), has been convicted by a Mexican court for "gender-based political violence," in addition to "digital, symbolic, psychological, and sexual violence," for using masculine references on Twitter and Facebook with regard to Luévano. He is currently awaiting a ruling on his appeal.
In his statement to the OAS, Cortés called attention to his experience of state-imposed censorship, stating: "[In Mexico] the freedom of expression of citizens is canceled and their free participation in the democratic conformation of laws is prevented. Unfortunately, I suffer this in my own flesh in the cases that are being carried out against me and the organization that I preside over, the National Front for the Family, for objecting to initiatives that ostensibly violate human rights".
Cortés came under fire for posting on social media in response to draft legislation in Mexico's congress that would label the teaching of Christian views on sexuality as "hate speech".
Disagreement is not discrimination, and peaceful dissent should never be penalized as violence. It is deeply disturbing that Cortés, who is exercising his right to peaceably share his views on a matter of significant current debate, has been convicted as a violent political offender when in fact it is his opponents that have a history of perpetuating unrest within Mexico's political institutions. We eagerly await a ruling on his appeal," stated Kristina Hjelkrem, legal counsel for ADF International, which is providing legal support to Cortés' defense.
Can you believe that? If you read Spanish, here is a link to a PDF of the tribunal's decision. Simply for stating in writing something that is a biological truth, Rodrigo Cortes is now legally convicted of "violence". What on earth is "digital, symbolic, [and] psychological" violence? It means that a transgendered person suffered from hurt feelings. "Violence"? A lie!
This catastrophic decision must not stand. It does make clear, though, that the transgender issue means that we are in a war for reality.
In Mexico, a Catholic cannot even state his own belief, based in biology, and on the teachings of his Church, about the nature of male and female, without being convicted under law of having committed a violent act. This is not a theoretical crime; Cortes has been convicted. If you doubt for one moment that the Left would not want to do the same to us in the US, and every other country, you need to get your head out of the sand.
Look at these tweets from 2020, about Abigail Shrier's bestseller about how girls are being pressured into transitioning. Chase Strangio is a FtM transgender: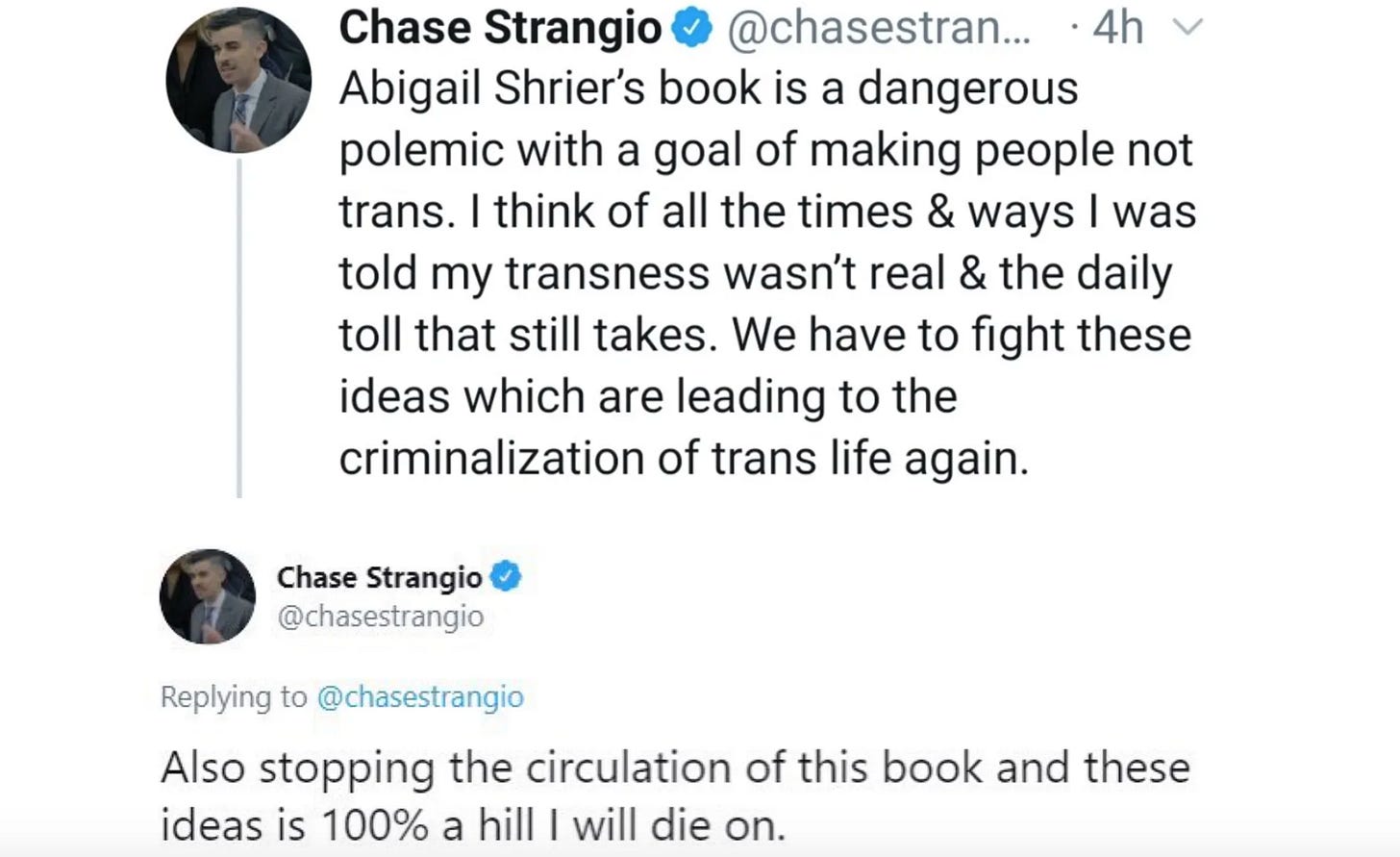 Chase Strangio is also a prominent ACLU lawyer. That's right: a top ACLU lawyer is willing to go to war to suppress speech that transgendered people do not like. As Glenn Greenwald pointed out at the time, Strangio doesn't speak for the ACLU officially on this matter, but it is still the case that the ACLU is rapidly changing from an old-school free-speech defense organization to one that only defends speech that advances progressive goals.
This is consistent with what I've seen myself in mainstream journalism, and what I have been told by people within academia: that as older liberals in positions of authority within institutions retire, they are being replaced by younger people who have more radical positions, ones that reject traditional liberal ideas about free speech and dissent. What we are seeing in Mexico is coming to the US.
It will have to get past the First Amendment, which is not easy, thank God. But it is also not impossible. Consider that free speech has never been seen as unlimited. You cannot shout "Fire!" in a crowded theater, for example. Nor do you have a First Amendment right to libel or slander someone ("libel" is written slander). True, criticizing someone is not the same thing as libeling or slandering them, but it doesn't take much imagination to conceive of trans people framing what they consider to be "misgendering" as a form of slander/libel. If a court can be persuaded that so-called misgendering harms the reputation of a transgender plaintiff, then Americans might find themselves in the same position as Rodrigo Ivan Cortes.
Keep in mind too that the First Amendment only means what the Supreme Court says it means. Maybe today's Supreme Court would dismiss a libel claim based on "misgendering". Would you bet that the 2040 verson of SCOTUS would hold the line for free speech? I would not, given that most or all of the justices then will have been formed within academic and legal cultures that reject traditional liberal ideas of free speech.
To be clear, I believe there is a good case to be made that some things that are protected today as free speech should not be (see the next item below). Standards evolve. It's that the evolution of standards governing free speech considered to be negative by groups sacred to the cultural and political Left are evolving in ways that stand to criminalize not only scientific truth, but religious belief and practice.
It's coming. Are you prepared? Are you preparing?
In the meantime, tell everybody you know about Rodrigo Ivan Cortes and his plight. He needs prayer. Click here to find out more about his case, and how you can help him. It would be nice if Pope Francis could take some time out of his drafting letters of support for the work of LGBT activist priest Father James Martin to pen a few lines of backing for Cortes. But I'm not holding my breath.
One more thing: last summer, I sat next to Rodrigo at a dinner in Rome. He told me about the struggles that Christians in Mexico face. He wept, literally, telling me about a close priest friend who was murdered by the drug cartels, which he said control huge portions of his country. Rodrigo Cortes is a good man, a man of faith, a man who suffers deeply for the truth. Let's not abandon him.
Rod Dreher is a journalist and writer, was editor of The American Conservative for 12 years, writes for National Review and is the author of The Benedict Option, and Live Not by Lies.